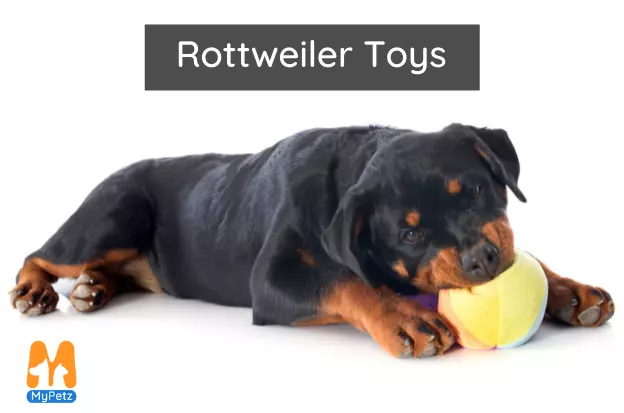 Rottweiler Toys
It's very difficult to find Rottweiler Toys as Rottweilers  have been known to work as cattle herders and to pull carts. These carts were used to carry butchered meat. This historical evidence has also given them the name Butcher's Dog. But that was years ago, now the ideal Rottie is a confident, courageous, and calm domestic dog. 
About Rottweiler Dog
Parenting a Rottie is one rewarding experience if you are willing to put some effort in. When we say effort, it has something to do with how Rottweilers are naturally. It is good to go over some common and natural instincts that Rottweilers have:
These dogs are kind of self-reserved. Unlike other breeds, they take longer to befriend and trust someone.

Rottweilers are very protective and territorial. Given the traits, they have strong guarding instincts and make for excellent guard dogs.

Once a Rottie becomes comfortable around you, it will barely give you any time alone. These dogs are always happy to have a company that they can trust.

Rotties are probably the most trainable, well-balanced, and obedient dogs.

Despite being a medium to large-sized breed, Rottweilers love to think of themselves as lap dogs!
Having an idea of how Rottweilers are, can give you a headstart in welcoming one into your life. If you already parent one, then you must have observed the above traits in your dog. 
Keeping Rottweilers occupied can be a chore if you do not know how to properly engage them in playing. A bored dog can become cranky and tough to get along with, irrespective of what breed it belongs to. Rottweilers, specifically, need to be worked out well in order to disseminate all the energy. 
Types of Rottweiler Toys
This makes you ponder upon the kind of toys your Rottweiler should have. 
Certain kinds of toys do more good to the breed as compared to normal dog toys. These Rottweiler toys are preferred keeping in mind that they are larger and fiercer dogs. Regular physical playtime and exercise is a must in your Rottweiler's day to day life.
Kind of Toys

What good does it do?

Chew Toys:

Needless to describe this kind of toy, almost all dog breeds benefit from having 2-3 toys to just chew on. Heavy-duty chew toys can prevent a lot of damage to your furniture or other stuff.

Prevents your dog from chewing on other things.

Helps relieve any kind of stress build-up.

Helps to relieve anxiety.

Interactive Tugging Toys: Given their size and energy, tugging can be a great way to exercise

These toys encourage interaction between you and your dog.

a Rottweiler. It will also give you an idea of how strong these dogs are. Rotties love to be challenged, and what can be a better way to do so?

Tugging and pulling are very good physical activities.

Keeps the muscles at work.

Puzzle Toys: As much as Rotties love to be physically challenged, they love being mentally intrigued as well. Puzzle toys then come in handy. However, you may need to supervise if the toy contains some tiny parts. The dog might take it in and be at risk of choking or any other digestive hazard.

Puzzle toys are very effective in mental stimulation.

Kindles curiosity in dogs.

These toys make the dogs work for treats while exercising their thinking capacity.
 One thing to note here is that "durability" is something that should be offered by all Rottweiler toys. With this fact, soft toys which can be a must-have for some other dog breed, are something that would be a waste for Rottweilers. Such plush toys will not even last an hour once it is in your Rotti's jaw.
On the other hand, dog toys such as play bones tend to provide a taste and quality chewing time to your dog. Such toys also double as a good dental cleanser. There is no need to refill them with pop treats because the toy is one itself.
It is safe to say that Rottweilers would love to have a variety of toys. Without having quite a few, these dogs tend to get bored very easily.
Top 10 Rottweiler Toys
| | | | |
| --- | --- | --- | --- |
| Image | PRODUCT NAME | PRODUCT RATING | PRODUCT LINK |
| | SmartyPet MultiColor Noodle Ball | 4.4/5 | |
| | Waago Large Chew Rope Ball | 4.1/5 | |
| | BarkButtler Super Chewer Tyre | 4/5 | |
| | Kong's Classic Rubber Chew Toy For Large Dogs | 4.4/5 | |
| | RvPaws Dog Interactive Rope Ring Toy | 3.4/5 | Buy Now |
| | Black Dog Cotton Rope Toy | 4.3/5 | |
| | Poodles Suction Cup Self-Playing Tugging Toy | 4.2/5 | |
| | Goofy Tails Tug Toys for Large Dogs | 4.6/5 | |
| | PetVogue Dog Puzzle | 4.3/5 | |
| | Strong Leopard Tough Squeaky Toy by Fofos Tough Toys | 4.3/5 | |
Let us tell you more about these toys in detail.
1. SmartyPet MultiColor Noodle Ball
This rainbow-painted noodle ball is made from extra-strong and non-toxic rubber. Since Rottweilers have a strong jaw, SmartyPet MultiColor Noodle Ball is bite-resistance and can easily withstand the pressure. Your Rotti will have a good time bitting on it. Also, there is a tiny metal bell inside that gives it a good ring when the ball moves. 
Very bright and colourful.

Safe to go in your dog's mouth since it is non-toxic.

Very soft and malleable.

Durable since it is bite proof.
2. Waago Large Chew Rope Ball
Waago Large Chew Rope Ball is adequate for larger and stronger dogs because they last longer than normal ones. The ropes in this ball are made out of soft and 100% natural cotton fibres. These are used in concurrence with non-toxic rubber to make the ball pliable. Nonetheless, Waago products are made to be trusted and durable, as you know by now.
Easily washable because it is purely cotton based.

Does not tear easily and can bear strong jaws.

Helpful in keeping your dog's teeth clean.

Safe to chew on.

The ball is 4 inches in diameter.
3. BarkButtler Super Chewer Tyre
BarkButtler Super Chewer Tyre is a heavy-duty chew toy shaped like a tyre. Meant especially for dogs that love chewing aggressively. Additionally, the tyre can be stuffed with treats that are dispensed when your dog plays with it. The tyre is made from high-density TPR and will last for a long time.
Suitable for both fetch and tug of war.

Besides treats, can also hold peanut butter, greek yoghurt, etc.

Promote independence since the dog can get its treats on its own.
4. Kong's Classic Rubber Chew Toy for Large Dogs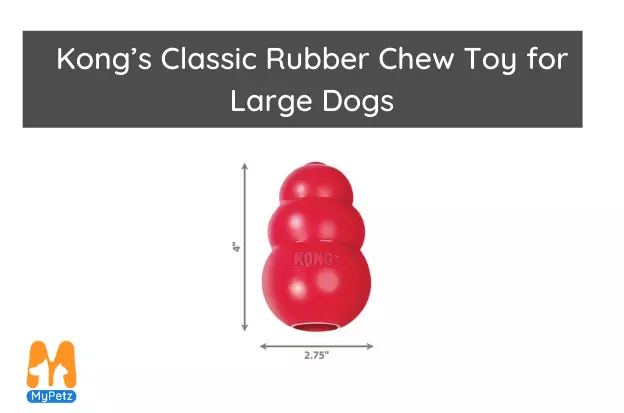 This Kong's Classic Rubber Chew Toy for Large Dogs that weigh around 30-40kgs. Made from 100% natural rubber, this toy helps to solve a lot of anxiety issues that your dog might have. Since rubber is used, the toy has a natural and erratic bounce and is so much fun to play with! You can fill the chew toy with peanut butter and your dog will have the time of its life licking from it. Even bits of kibble could do the work. 
Mentally stimulating toy.

Keeps the dog occupied.

Safe to lick and chew because it is made from natural rubber.

Brightly coloured to draw your pet's attention.
5. RvPaws Interactive Rope Ring Toy
RvPaws Interactive Rope Ring Toy is mainly a tug-cum-chew rope ring that has been designed uniquely. This dog rope toy has been made from high-quality cotton threads that are shaped like an eight using PVC tubes. The shape makes it very conducive for tugging. Cotton materials also help in keeping your dog's teeth clean when it chews on the rope. Besides being safe and non-toxic, the toys are also very durable and sturdy.
The length is suitable for 2 people to play with the dog at once.

The toy has a bite-resistant quality, it will last long with your Rottweiler.

Relieves stress and separation anxiety.

Enhances the relationship between you and your dog.
6. Black Dog Cotton Rope Tie
Black Dog Cotton Rope doubles as a chew as well as a tugging toy. It has been provided with 5 chewing knots that make it easier for your dog to hold on to it while tugging. Made from 100% cotton, it is very convenient to use. Also good for dental cleaning, the rope is super safe and completely non-toxic. You may even use to play fetch and train your dog.
Sturdy ropes.

Suitable for your dog of all ages.

Easily washable because it is made purely from cotton.
7. Poodles Suction Cup Self-Playing Tugging Toy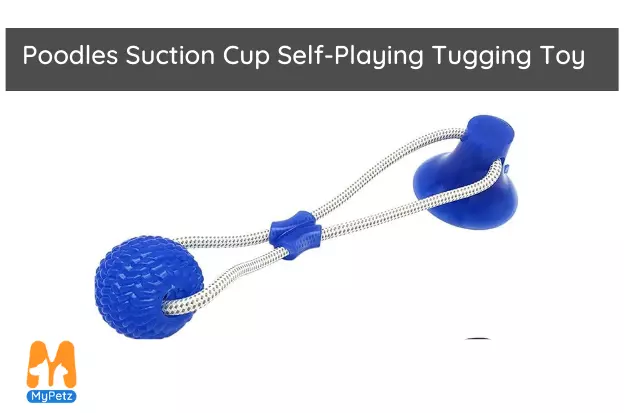 You know about normal tugging ropes and toys. They require you to be present when your dog wishes to tug. But Poodles Suction Cup Self-Playing Tugging Toy lets your dog have its own tug of wartime. You just need to place it once using the suction cup and it sticks on for quite a long time. Your dog can easily tug against it even while you're working or running errands.
Adheres strongly to the floor.

Indestructible design.

Helps to channelise energy.

Wear-resistant and made from non-toxic rubber.
8. Goofy Tails Tug Toys for Large Dogs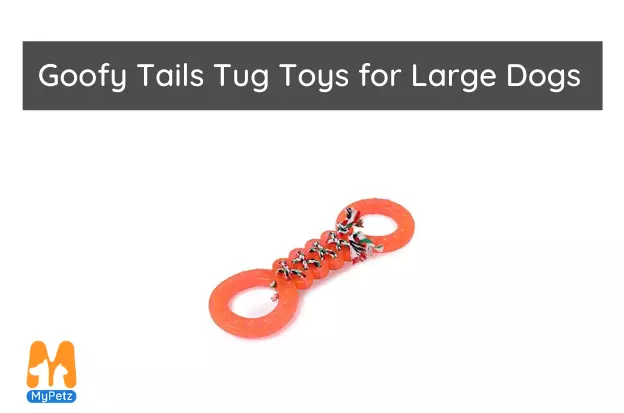 Goofy Tails Tug Toys for Large Dogs is so apt for satiating your dog's desires for fetching and tugging, all at once. The rubber toy encompasses a tail design between the two rings to make it look stylish. Furthermore, this has been specially built for outdoor activities. Your dog will have a gala time playing with it. 
Designed for heavy chewers.

Brightly coloured.

Available in shades.

Long-lasting and durable rubber.
9. PetVogue Dog Puzzle Toy
We have already enlightened you with the benefits of puzzle toys. This is a puzzle treat dispenser. Your Rotti will be intrigued by the toy! In order to get treats, your dog will have to use its intelligence and know-how to draw from it. The button of PetVogue Dog Puzzle Toy has been made non-slippery so that while your dog is at it, it doesn't move around much.
Conductive in honing intelligence.

A feeder-cum-toy in a single thing.

Stimulates the dog mentally.

Makes them self-sufficient.
10. Strong Leopard Stuffed Tough Squeaky Toy by Fofos
We have earlier established that soft/plush toys are not very preferable for Rottweilers due to their strong jaws and aggressive chewing. But this soft squeaky toy is made really tough to work for such stronger breeds. Strong Leopard Stuffed Tough Squeaky Toy by Fofos is made with good-quality oxford fabric along with high-density TPR. The seams are specially reinforced to increase their sturdiness. 
Combination of a plush-chew-tug toy.

Exceptionally sturdy built.

Reinforced seams.

Bright orange colour.
What we Like about
Rottweiler Toys
The Toy

What do we like the most about it?

SmartyPet Multicolour Noodle Ball

Waago Large Chew Rope Ball

BarkButtler Super Chewer Tyre

High-density TPR material 

Very durable

Kong's Classic Rubber Chew Toy

RvPaws Dog Interactive Rope Ring Toy

Unique design

Bite-resistant

Black Dog Cotton Rope Toy

Has multiple tugging points/knots

Poodles Suction Cup Self-Playing Tugging Toy

Self-entertaining

Adheres pretty well

Goofy Tails Tug Toys for Large Dogs

Stylish

Suitable for tugging and fetching

PetVogue Dog Puzzle

Strong Leopard Tough Squeaky Toy by Fofos Tough Toys
Our recommendation – for the Best Overall Rottweiler Toy
All the toys are made nattily to suit stronger dogs like Rottweilers, and yours would love each one of them. But if you ask for our recommendation, we are all hearts for the exceptionally Strong Squeaky Soft Toy by Fofos. This toy stands out differently in being a plush toy while having all the qualities of other durable toys. 
FAQs
1. What kind of toys are the best for Rottweilers?
Rottweilers love interactive toys and toys that challenge them physically as well mentally. Puzzle toys are very good for their mental stimulation while interactive toys make them closer to their hoomans!
2. How often do Rottweilers need someone to play with?
Rottweilers are energetic dogs. They need someone to work them out on a daily basis. Be it from playing outside, going for a hike, tugging, or fetching. It is very important to channelise their energy otherwise they may become ferocious and intimidating. Consequently, about 60 mins per day are sufficient to spend on physical activities and exercises.
3. Are Rottweilers safe around kids?
Just like any other large dog breed, Rotties may seem intimidating. While it is not completely wrong but if trained properly and given their time to get familiar with you, Rottweilers become absolutely friendly and protective. This makes you the greatest furry friend that your children can have.
Final Thoughts
The durability factor that is a must for your Rottweiler toys can be clearly seen in the above-mentioned ones. It also makes sense to keep such things in mind in order to obtain maximum value from whatever you buy. This value is not in terms of how much you pay, but how much fun your dog can have with it, and for how long. Just like us, dogs also get attached to their toys and accessories. So, you should take care of your pet's attachments.