Bellotta Cat Food Review
You must have seen Bellotta cat foods amongst all other cat food brands. We are finally looking into the Bellotta Cat Food Review to see if they are actually worth the hype. 
About Bellotta Cat Food
Since Bellotta Cat Food was founded in 2007 in Thailand, the brand has been mission-driven. People at Bellotta have always been passionate about giving the best possible food experience to our customers. That's why the brand goes above and beyond to create recipes and products that are different from other brands. Bellotta believes that every food provider should be able to offer a food experience that is unique and nutritional. The food is made with the same outlook and concern that people at Bellotta give to their cats. It is ensured that every single dish is verified by animal nutritionists to make sure that your cat's experience is as good as it can be. The brand works hard to provide high-quality food that will make your cat happy and healthy.
It is mainly credited for having one of the best food in wet cat food varieties in the Indian market. 
Manufacturing
Bellotta Cat Foods are manufactured by Thai Union Manufacturing Co. Ltd. in a facility in Mueang Samut Sakhon District, Thailand.
Is Bellotta Cat Food Good for Cats?
Bellota's cat food is good for cats because it surpasses all primary nutritional requirements that cats have. By now, you know that cats are obligate carnivores, they require a protein-based diet that is supplemented with vitamins, minerals, fatty acids, amino acids, taurine (an amino acid that is self-produced by many mammals, but the cat's body cannot produce it). Taurine supports and ensures that the heart operates properly and helps to stop urine infections, which some cats are prone to. Bellota also includes many natural antioxidants and vitamins A and B6 in its formula to help keep the cat's immune system strong. Bellotta's cat food formulas always provide prevention against FLUTD. 
As per veterinary experts, the first few ingredients used in a cat food recipe gives away most of the nutritional information about the product. Bellotta's first few ingredients are the main sources of quality animal protein- Tuna, Chicken, Salmon, etc. There are no meat by-products but just 100% natural meat.
This makes Bellotta a considerable food option for your fur babies.
Is Bellotta a Good Brand?
The Bellotta Cat Food line takes care that the food provides all the essential nutrients necessary for a cat to live a healthy life. It supplies all the forms of light brown kibbles/dry cat foods, which is natural and healthy for the cat's coat. Dry kibble is also credited to fulfil cats' requirements for concentrated nutrients. Besides, Bellotta foods are manufactured in regulated and controlled facilities that adhere to all safety measures. Each food recipe is developed and approved by a team of quality assurance people. This team has nutritionists, vets, and food scientists. Overall, Bellotta seems to be promising.
Do Vets Recommend Bellotta?
If you look into the basic ingredients offered by Bellotta, you will not be able to find many flaws in the list. For most of it, all the ingredients are pretty common and basic. Bellotta food ingredients are mainly divided as per macro nutritional needs. Mostly, there is an animal-based source of protein, essential vitamins and minerals, taurine (amino acid), and oligofructose. All these ingredients should be there in all cat foods, irrespective of the brand.
However, there are some other elements like food colouring agents and flavouring agents that make Bellotta a lesser appealing alternative for cat foods. These artificial elements are not inherently healthy for your cat. 
Nevertheless, if you are not bothered much by colouring and flavouring agents, then you can opt for Bellotta cat foods. A lot of brands do make use of such condiments to make the food more palatable and appealing.  
What do customers think about Bellotta?
Customers have insisted that their cats/kittens have been drooling over Bellotta cat foods. A good proportion of all online reviews have been about cats adjusting well to the food. 
Some positive reviews…
"Have ordered in bulk, my kittens love it and it's healthy too, as per my Vet my kittens are very healthy."
"My cats absolutely love this. Even the one cat who is a fussy eater and prefers only dry food. It loves the wet food pouches from Bellotta."
No such instances have been reported yet where cats have not felt fine after consuming Bellotta cat food. 
Since individual cats may have their own apprehensions and tastes, some may not find Bellotta cat food appealing. But even then, it has nothing to do with the food, but with the cat.
So, always try if it works for you. 
Has Bellotta ever been recalled?
As of now, Bellotta has not been recalled.
Top Bellotta Products?
Bellota Wet Foods are cats' beloved! They have several flavours to offer. The chunks and bites are soaked in delicious gravy so that your fur baby has a gala time while eating and slurping. 
1. Bellotta Cat Food Review
Bellotta tuna light meat with shrimps in jelly is a flavourful and nutritious meal for your cat. The delicious jelly-based food contains animal-based protein. It has a good hydrating effect with about 85% of water content that encourages detoxification. There is vitamin E to offer protection against damaging cells. Vitamin E also gives a lustre and soft texture to the skin. There are no preservatives.
The cat food contains taurine, which is essential for the healthy functioning of the heart.

It offers high moisture content.

It is good for detoxification.

It contains enough vitamins and minerals.

There are no preservatives. 
The food contains food colouring agents.
2. Bellotta Mackerel Gravy Food for Adult Cats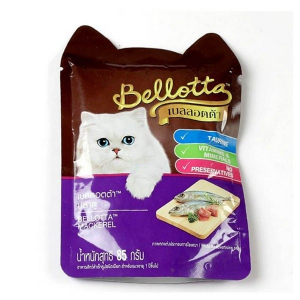 Bellotta mackerel cat food is a high-quality delicacy that is prepared to soothe your cat's taste buds while nourishing them. The food is complete, balanced, and contains tiny chunks of mackerel along with proteins, fats, and carbohydrates for general well being.
The cat food contains Omega 6 fatty acids to ensure a healthy heart and skin.

It also aids in building lean muscle mass.

It helps in preventing cardiac issues.

The cat food is made using high-quality ingredients.
It contains food colouring agents.
3. Bellotta Tuna with Vegetables in Gravy 
This cat food is a nutritious meal for the well-being of your cat. It contains a good amount of moisture to assist in hydration and in flushing out toxins. You may feel free to use it as a snack or a complete meal. Besides, it contains animal-based protein, taurine (which supports the health of the heart and is essential for healthy vision). It also contains vitamin E to provide protection against damage caused by free radicals. 
It has a hydrating effect.

The food contains Taurine.

The food also incorporates all vitamins and minerals.

The vegetable content provides enough antioxidants.
It contains tuna extract colouring agents. 
How much does Bellotta cat food cost?
Bellotta is a much pocket-friendlier brand when compared to other brands in the market. Its wet food pouches can cost you between Rs48.80 to Rs90 per pouch, where the tins cost around the latter and pouches around the former. You can avail of the food varieties in sets of 16/24/36/48/60/72/84/96 pouches in a bundle. Even if you decide to order in bulk, it will not be a burden on your pocket because it's worth every penny. 
Read our Royal Canin Cat Food Review
FAQs
Is Bellotta cat food good for kittens?
Bellotta has a separate product line for kittens. Kittens have different nutritional requirements than adult cats. Besides basic growth, they need more support in strengthening their immune system and developing defences against allergens and infections. Adult cats require nutrition for general well-being and health more than for immunity.
Conclusion
Bellotta seems to be performing decently in its line and providing basic nourishment to your cats/kittens. If you wish to have some extra, over the edge ingredients and efforts; then you may need to look further because Bellotta offers a good but quite basic deal. It does have the nutrients that your cat needs, but nothing more to offer. This is completely justified given the pricing. Bellotta charges menially. If you find it just enough to have for your cat's statute, you can go ahead and buy it without a doubt.