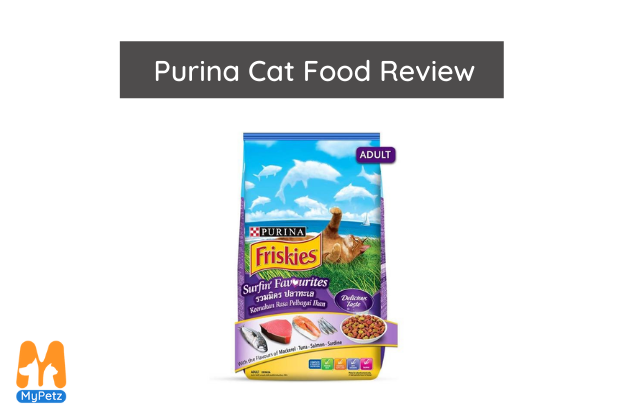 Purina Cat Food Review
If you have been connected to our blogs, you know that we base our reviews purely on research and consumer experiences. This is what makes our blogs sheerly unbiased. In this edition, we have come up with a comprehensive blog about Purina Cat Foods Review. Continue reading to see if Purina fits the species-specific requirements and appropriateness.
About Purina Cat Food
Purina has been in existence for over 120 years. It has always been a company of pet lovers and is guided by the belief that people are much better off with pets! 
People at Purina believe in curating nourishing recipes and foods for your pet.  Proper nourishment is necessary to provide energy to your fur baby so that it enables them to live an active and healthy life. 
As we have mentioned, the company is as old as 120 years. It was started in 1894 under the name of Robinson-Danforth Commission Company. 
Over the next few decades, the company grew and changed its name to Ralston-Purina in 1926. At the same time, it expanded its portfolio from just using molasses and corn to produce horse feed, to producing many more dishes for more pet animals! Dog foods were incorporated in the 1950s. It wasn't until the 1960s that Purina began manufacturing cat food products.
In the most recent developments, Purina partnered with Nestlè, the food giant. This collaboration made Nestlè-Purina the second-largest pet food brand worldwide!
Is Purina cat food actually good for your cat?
Purina seems to be a good alternative to some other brands that are available in the stores. 
Purina Friskies incorporate the following basic ingredients in all its recipes…
Cereals and vegetable products (Corn, Wheat, Soya)

Chicken and Chicken products (dehydrated chicken protein, chicken oil, hydrolysed chicken protein)

Vitamins and Minerals (Vit A, D, E, B1, B2, B3, B5, B6, B7, B9, B12)

Amino acids and flavours.

Calcium, Phosphorus, Choline, Chloride, Copper, Manganese, Selenium, Sodium, Zinc, Iron, Potassium, milk solids.

Dehydrated Fish protein

Food colouring agents (INS 102,123,110)
Their products have been designed to suit the nutritional requirements of an obligate carnivore. Thus, animal protein is probably the most essential element in the diet. Purina cat food is enriched with animal protein!
Besides, research suggests that cats are not able to sustain a vegan diet, nor has that been recommended by veterinarians and animal nutritionists. So, high-quality meat is a must-have.
Other than protein, Purina Friskies cat food is a bundle of all balanced and complete nutrients that come together tastefully. 
Purina Friskies also contain:
Essential Fatty Acids: Fatty acids with Omega 3 and Omega 6 for a lustrous coat and healthy skin.

Calcium: for healthy teeth and bones.

Antioxidants: for the immune system.

Taurine: essential for good eyesight and functioning of the heart.
By composition, Purina Friskies provide:
Min. 28% Crude Protein

Min. 9% Crude Fat

Max. 5% Crude Fibre

Max. 12% Moisture

Min. 0.8% Calcium
Things that we did not like about Purina
Purina Friskies contain artificial flavouring and colouring agents like INS 102, 123, 110. These artificial elements kind of dampen the purposefulness of all other natural ingredients.
Is Purina a good brand?
The majority of a cat's nutritional requirements are easier to meet via dry food in comparison to wet foods. A portion of species-appropriate dry cat food should contain all vital nutrients in appropriate amounts. Moreover, dry cat food is easier in your pocket. So what is the harm in using it in your and your cat's best interest? Purina hence focuses more on dry cat food for providing a flavourful and nutritious meal for your cat(s).
Purina is considered to be among the most recommended and economical cat food brands that offer 100% genuine animal protein.
Animal protein and all other ingredients that are used must abide by or surpass FDA, AAFCO, and USDA standards for cat food. Besides these, Purina has its own set of standards for ingredient safety and specifications that must be met by all the supplies of raw materials before they are forwarded for processing. 
Purina foods are manufactured in self-owned, state-of-the-art manufacturing facilities in the US and Canada. 
Overall, Purina seems to actually be a good cat food option for your cats. It is evident that it surpasses all basic nutritional requirements of the species! 
Do vets recommend Purina?
Purina Friskies offer a deal of protein and other basic nutritional elements. The vet would not suggest otherwise. However, it does contain some artificial elements.
Food colouring agents are not healthy to be given to cats or any other pets. You can look for other alternatives in a similar range and in other brands if it is a non-negotiable factor for you. 
Has Purina cat food ever been recalled?
Now here comes the unsettling part about Purina. Purina has had a few recalls throughout the last 90 years of its functioning. Let's have a look at some recent ones.
Recalls before 2004
These years go way back in time so a detailed account of the recalls isn't available. However, in 1978 Purina Cat Chow was recalled due to possible PCB contamination. PCBs are potentially carcinogenic in nature. In 1983, 150 cans of tuna cat food were mistakenly labelled as "Chicken of the Sea" and didn't mention that it was for cats. So people ended up buying it for themselves!
In 2007
Purina Alpo Prime Cuts in Gravy dog food was recalled in all capacities due to potential melamine contamination.
In 2011
Several Purina foods had to be recalled due to potential Salmonella contamination.
In 2012
Purina Vet Life Overweight Management Feline cat food was recalled due to inadequacy in Thiamine concentration.
In 2013
This was a substantial recall that happened in the whole US market. Purina withdrew Waggin' Train products after trace amounts of antibiotic residues were found in its treats. The finding was done by the New York State Department of Agriculture and Markets.
Another batch of Purina ONE was recalled in the same year for having inadequate levels of Thiamine.
That is quite some history of recalls. But this is something that is inevitable, especially when you have been in the business for over a century. Mishappenings are always possible.
Top Purina Products
1. Purina Friskie Adult Cat Food Seafood Sensation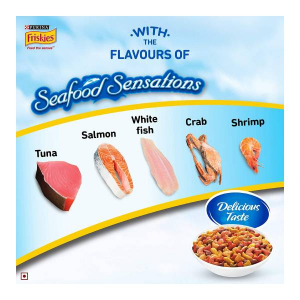 This is a perfect blend of all seafood favourites of your cat – Tuna, Salmon, Whitefish, Crabs, shrimp!
Cereals and vegetable products (corn, wheat, soya)

Chicken and chicken products (dehydrated chicken protein, chicken oil, hydrolysed chicken).

Vitamins (A, D, E, B1, B2, B3, B5, B6, B7, B9, B12)

Minerals (calcium, selenium, calcium, chloride, copper, iodine, manganese, zinc, potassium, iron)

Dehydrated fish.
All flavours in one – Whitefish, Salmon, Tuna, Shrimp, Crab.

100% balanced and complete

Contains Taurine.
2. Purina Friskies Surfin Favourite Adult Dry Cat Food – Mackerel, Tuna, Salmon, Sardines.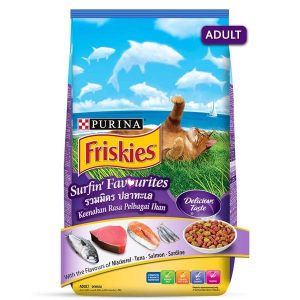 This is another cat's favourite product, enriched with animal protein from fish!
Cereals and vegetable products (corn, wheat, soya)

Chicken and chicken products (dehydrated chicken protein, chicken oil, hydrolysed chicken).

Vitamins (A, D, E, B1, B2, B3, B5, B6, B7, B9, B12)

Minerals (calcium, selenium, calcium, chloride, copper, iodine, manganese, zinc, potassium, iron)

Dehydrated fish.

Food colourants.
Protein helps in gaining lean muscle.

Essential fatty acids – Omega 3 and Omega 6

Calcium and Vit D are very crucial for bone and joint health.

Contains Taurine.
Contains food colouring agents.
What do customers think of Purina cat food?
There have been mixed reviews regarding Purina cat foods. Broadly speaking, there are more positive ones than their counterpart. Customers have had a decent experience using Purina for their cats. The cats have been loving the flavour.
Some of the positive reviews say…
"At this price range, Purina is doing better than other brands like Whiskas and Me-O."
"It is very crunchy and fresh and my cats love it."
However, some customers complained that the products reek! From a human point of view, the odour of meat in the products is very strong and may be unappealing to even have it in the house. But the cats do seem to love it.
There have been a few instances where the cats got bloated after consumption and vomited. Now there is no potential allergens present, but different cats have different digestive habits. You should always introduce any new food slowly and gradually and then see it your cat adjusts. 
Recommended Read – Kennel Kitchen Cat Food Review
How much does Purina cat food cost?
One of the best things about Purina is that it is very pocket friendly. The average price of Purina Friskies is about Rs38.83/100g. You may land up some offers that bring down the cost further to Rs28.100g. So in both scenarios, you need to worry about the bill.
FAQs
Is Purina a good brand?
Purina is a decent brand. By now, you must have read that it provides a sufficient amount of protein, doesn't cost you much, and cats seem to love it. Besides, the brand takes care that all safety measures are met and abided by. 
What's wrong with Purina cat food?
It contains artificial colouring agents that are not primarily healthy for cats. Moreover, the odour is very strong for humans. You may even say that the food reeks, from a human point of view.
Is Purina low quality?
Purina offers decent quality for the price.
Is Purina Fancy Feast good for cats?
Purina Fancy Feast has its pros and cons. It is very affordable and conveniently available. However, it has plant-based proteins that are harder to digest. It contains a lot of by-products, fillers, and artificial additives.
Does Purina use ingredients from China?
Purina sources most of its ingredients from Northern America. However, it does source it from other countries if and when necessary. 
Conclusion
We can break it down into a few sections. When it comes to nutritional content, Purina cat foods offer a decent deal. There isn't anything extraordinary, but it surpasses all the basic requirements. When it comes to quantity and pricing, the brand is appropriate for Indian markets. It is very pocket-friendly and will not be hard on your pockets. However, it does have a history of recalls and all are attributed to contamination from PCBs/melamine/thiamine. So, that is a thing that might make a few people bothered about making a choice.