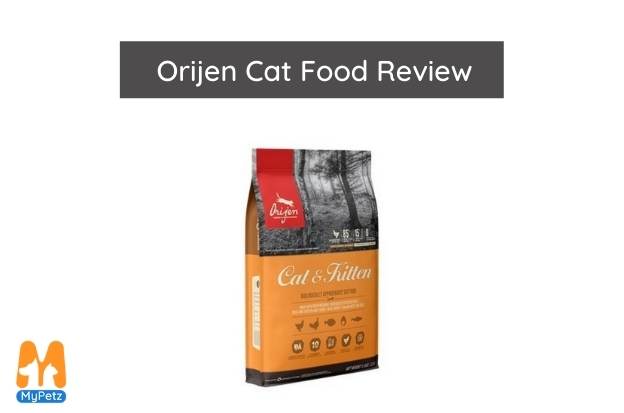 Orijen Cat Food Review
In this edition, we are going to look into the origin of Orijen cat foods as a decent competitor in the pet foods market! 
About Orijen Cat Food
Orijen has been in the pet business for over 30 years now. It was founded way back in 1985 in Canada. From that day to now, it employs over 500 people and has gained success globally. It aims to nourish cats and dogs as nature has intended them to be. The company has been helping cats and dogs to reach their maximum biological potential by feeding them 100% natural foods. Orijen abides by the "biological appropriateness" of nutrition. To keep that in check, it has a team of 20 innovation scientists and researchers who take care of the whole R&D part before the recipes are finally approved. There are people with PhDs in Animal Nutrition, in Food Sciences, Veterinary sciences, etc. 
Ownership
Orijen is owned by Champion Pet Foods- a Canadian pet food company. 
Manufacturing
All of the products are generated by Champion pet foods in two main facilities – NorthStar Kitchen in Alberta, Canada and Dogstar Kitchen in Kentucky, USA. 
NorthStar Kitchen is European Union Certified and strictly adheres to HACCP guidelines. Dogstar Kitchen also follows all safety protocols and measures to keep the kitchens extremely sanitised and updated. Both facilities have a separate quality assurance department to validate their functioning throughout the process. Towards the end of this whole journey, all products are necessarily made to be passed through nutritional and microbial testing. The test results are also verified by government-certified laboratories before they proceed for distribution. 
Fact – Both these facilities cater only to Orijen and Acana (another pet food brand owned by Champion Pet Foods) pet food labels. 
Is Orijen cat food actually good for cats?
To see whether Orijen cat food surpasses all nutritional requirements of cats, we need to look further into its recipes and the ingredients it uses.
Orijen uses some of the finest ingredients that are available. Every step of the manufacturing process is closely monitored and controlled beginning from the sourcing of ingredients to the final packaging. 
Orijen food is made from fresh/raw ingredients to ensure that no nutritional value and flavour is lost during the process. This method also reduces the dependence on additives or supplements in the recipes.
When they say fresh, they refer to ingredients that are preserved via refrigeration and not artificial preservatives.
When they say raw, they refer to ingredients that have been frozen at the peak of freshness.
This is done at a huge 25,000 sq ft cold storage property in Kentucky, USA. 
Orijen Foods Use
RANCH-RAISED MEAT: beef, lamb, and bison come from ranch-raised animals that have been well cared for, for them to be in their peak health. The protein from these animals is thus high in quality.

FREE-RUN CHICKENS AND TURKEYS: chickens and turkeys that are used are never caged. They can move unrestricted in the barn and live an active life. They have been provided with unlimited access to clean drinking water, quality feed, and fresh air. This makes the poultry ingredients premium in quality.

CAGE-FREE EGGS: the hens are raised in open barns and not cages. Hence, they are free to perch on roosts and lay eggs in nests. 

WILD-CAUGHT OR RESPONSIBLY FARM-RAISED FISH: the brand has diligent partnerships with fisheries around the world to source high quality, nutrient-rich fish and seafood. 
Besides high-grade animal-based ingredients, ORIJEN foods also have apt proportions of fruits, vegetables, and botanicals. These ingredients provide all necessary vitamins, minerals, prebiotics, and antioxidants.
Based on what goes in the food, ORIJEN turns out to be a good cat food brand.
Is Orijen a Good Brand?
When compared to other brands that offer similar cat foods, Orijen cat foods offer a lot of things a lot better. Where other brands offer only 1 or 2 animal-based fresh/raw ingredients, Orijen offers about the first 5 ingredients that are fresh/raw meat, poultry, organs, or fish. Orijen uses Chicken, Turkey, Flounder, Whole Mackerel, and Turkey giblets. 
Moreover, other brands incorporate about 5-10 animal-based ingredients and the rest is covered via fillers/grains. Orijen uses about 23 animal-based quality ingredients and hardly any fillers. Orijen foods offer about 40% crude protein by proportion which is quite more than many brands.
Their state-of-the-art facilities have certified animal nutritionists and veterinarians that validate all the recipes and cooking techniques.
WholePrey Diet…
WholePrey ingredients are superfoods. They are nutritionally dense and comprise meat, poultry, fish, organs like the heart, liver, and kidneys. Even a small amount of certain bones are added to make it even more nourishing. Orijen's philosophy says that the cat's ancestors have fed on succulent and nutrition preys. That's why their foods include these WholePrey ingredients.
Do vets recommend Orijen?
Based on the analysis of its ingredients, Orijen foods offer a lot of benefits starting from a good amount of animal-based protein to all essential plant-based ingredients. Their first five key ingredients are 100% fresh/raw meat products. 
Moreover, Orijen also offers special diets. If you are looking for Grain-free cat food options or indoor/weight management food options, Orijen has a separate variety for the same.
Looks like your vet will give it a free pass.
Has Orijen ever been recalled?
Orijen was a recall-free pet food brand until 2008. The recall was only limited to Australia. This voluntary recall happened on November 22, 2008, for all Orijen cat food. Many cats apparently fell sick after consuming Orijen Cat Food. After the unfortunate event, Champion petfoods worked with the Australian vets' community to figure out the reason behind the mishap. Although there were no direct explanations for Orijen food causing the illness, Orijen decided to recall it as a precautionary measure.
Later on, in 2009, it was found that irradiation treatment was the culprit. Prior to 2009, it was a mandatory procedure wherein gamma rays were passed through the food to dampen microbial hazards. After a worldwide stir of events that suggested that cats can suffer fatal neurological damages due to irradiation, it was banned. 
Top Orijen Products
1. Orijen Original Cat And Kitten Food- Made With Free-run Chicken And Turkey, Wild-caught Fish
This is a whole and complete cat food that nourishes your fur baby as per its biological needs. All the ingredients are responsibly sourced by trustable and regional sources.
Chicken, turkey, whole mackerel, turkey giblets (liver, heart, gizzard), flounder, whole herring, eggs, whole grain lentils, pinto beans, whole peas, navy beans, pollock oil, lentil fibre, Vit E supplement, zinc proteinate, cranberries, pumpkin, butternut squash, copper proteinate, thiamine mononitrate, taurine, niacin, chicory roots, citric acid (preservative), sarsaparilla, althea root, rosehip, juniper berries, dried fermentation products, rosemary extract, collard greens, whole apples, dried kelp, mixed tocopherols (preservatives).



Enriched with protein.

Wholeprey diet.

Helps with digestibility because it contains prebiotics such as chicory roots and fibre from fruits.

Wild-caught pollock oil is a good source of Omega 3 fatty acids to keep the skin and coat healthy.

Taurine helps to support the functioning of the heart.

Suitable for both cats and kittens.
Contains preservatives.

Expensive given the quality.

Some cats fell sick after consumption.
2. Orijen Six Fish Dry Cat Food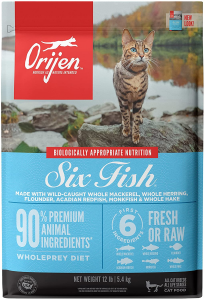 This complete cat food delivers a diet that is rich in whole fish ingredients. Atlantic Mackerel, herring, monkfish, Acadian redfish, flounder, and silver hake make it very palatable for cats. About 75% of these are used raw whereas the remaining 25% is used in the dehydrated form (to provide concentrated protein).
Whole mackerel, whole herring, flounder, Acadian redfish, monkfish, whole hake, blue whiting meal, pollock oil, red lentils, pinto beans, salmon meal, pollock meal, green peas, green lentils, navy beans, chickpeas, sunflower oil, pea starch, natural salmon flavour, safflower oil, lentil fibre, whole yellow peas, choline chloride, Vit E supplement, mixed tocopherols (preservatives), dried kelp, pumpkin, apple, butternut squash, collard greens, pears, zinc proteinate, copper proteinate, thiamine mononitrate, riboflavin, niacin, turmeric, taurine, althea root, rosehips, dried chicory, sarsaparilla root, juniper berries, rosemary extract, citric acid (preservatives), dried fermentation products.
Uses wild-caught fish.

Pollock oil supplies Omega 3 for a healthy coat and skin.

Good for digestion because it contains prebiotics like chicory roots.

Good for heart health.
Expensive.

Based only on fish.
What do consumers think of Orijen Cat Food?
Orijen cat foods are highly rated and the cats seem to love it! It is evident from the reviews that cat parents drop. About 80% of the reviews insist that from preparation to ingredients, everything just seems perfect.
Some positive reviews
"My cat really loves the food, especially because of the original flavours."
"The ingredients seem to be very good."
"We have to hide the food in cupboards because the kitties are always trying to get to them."
However, there have been a few reviews that suggested otherwise and sound grave. A few cats resulted in having uterine crystals that could have led to organ failures.
Another review said that the texture is very much flaky and appears like sawdust. Some reviews also suggest that the products contain preservatives against the claim of just using fresh/raw animal protein. Some cats had it pretty bad and suffered from diarrhoea and jitters. 
People said…
"My cat took a bite and spit it out instantaneously. The other time, it could not digest and hence had an adverse reaction to the regional red food option."
"My cat tried the food and started vomiting. It was also peeing blood and I had to take her to the ER."
It may and should bring the points of concern to your mind, but largely all cats have had a good and safe experience with Orijen foods. The unfortunate incidents could be because of some other underlying issues or plainly because of individual preferences. 
Nevertheless, the call is always yours to make. 
Also Read- Kennel Kitchen Cat Food Review
How much does Orijen Cat Food Cost?
Orijen cat food costs you slightly more than what other similar brands are offering. Whereas it costs a load more than common brands like Whiskas. It can cost you as much as Rs140+/100g! That is a lot for regularly flavoured dry cat food. Many customers have complained of having a hard time coping with the cat food prices regularly over longer times.
FAQs
Does Orijen cat food make cats sick?
There are no specific instances where the source of sickness was proved to be Orijen cat food. However, there have been a few ones where cats did not adjust well to the food. Some cats have been observed to vomit or have diarrhoea after being shifted to Orijen from any other brand.
Are Orijen treats good for cats?
Orijen cat treats are gently freeze-dried chunks of raw chicken, chicken liver, turkey, monkfish, chicken gizzard, liver gizzard and mixed tocopherols (preservatives). Several cat parents wrote that their cats love the treats and have been adjusting well. A few other cats did not find them appealing. As per cat parents, it looked like dried sawdust and hence the cats would not go near it. So, the experience is mainly subjective. 
Does ORIJEN cause allergies?
As per the ingredient list, there are no potential allergens present in the food. Technically, it should not cause allergies. But then you may not know if your cat is allergic to something like chicken/turkey gizzard until you try it. 
How many calories are there in Orijen cat food?
Calories are consciously distributed according to the macronutrients. On average, the food gives about 4120kcal/kg, roughly 515kcal per average 8oz serving.
Conclusion
On paper, Orijen does a pretty good job in offering protein-rich food varieties. It extensively uses WholePrey ingredients to ensure that your cats are not skipping out on any protein. Besides, it also surpasses the basic requirements of plant-based nutrients and ingredients. Undoubtedly, certain ingredients and the quality that Orijen offers is unmatched by other brands. However, consumers have had mixed experiences with Orijen cat food with their cats.
It is however noticeable that countries that receive the products from Dogstar Kitchen have had quite some negative reviews. There are instances of the food suiting well, but the ones that insist otherwise, are a little grave to just ignore and move ahead. It is always best to observe your cat for any possible allergies or underlying conditions that may get triggered due to certain ingredients. Besides, if your cat has sensitivities, you should always introduce any new food product slowly and gradually. The best that you can do along with your part is to consult a vet before putting your cat on any specific diet.