German Shepherd Dog Toys
"Don't judge a book by its cover", is something you must have heard. German Shepherds truly portray this in reality! From the looks of it, this breed seems ferocious and wild. However, they are nothing but gentle giants. Packed with energy, these dogs were initially bred for herding and protecting livestock. This breed is also known to have served with army regiments because of their sheer obedience, intelligence, and strength. Over the years, they found their way into people's homes and of course, their hearts!
If you have one, you know how much physical activity they need. Consequently, the toys and stuff you get for them should promote activity and intelligence. This will help you train them towards decent composure while reinforcing their physical strength at the same time. But, before getting any toys to make your pup happy, there are certain things that you should keep in mind:
Things to Consider Before Buying German Shepherd Dog Toys
Their body size: A grown-up German Shepherd is a medium to large-sized dog. It would be good to get some appropriate toys.

Curiosity: These dogs are known to be very curious and intrigued by things around them. Toys that tickle their intelligence and require them to work their way through, would be a good option.

Additionally, these dogs are very interactive.

Energetic Dogs: German Shepherds are very active dogs. Having a few outdoor toys and games will be a good thing.
Knowing a little about these dogs, we feel that certain toys are a must-have. Continue with this article and get fascinated by simple yet thoughtful toys, that you can get for your shepherd! 
Almost all toys made for pets like dogs/cats focus on agility training and movements. After all, our pets are wild animals. Years of transition and interaction with humans has made them habitable. 
Top 10 German Shepherd Dog Toys
| | | | |
| --- | --- | --- | --- |
| Image | PRODUCT NAME | PRODUCT RATING | PRODUCT LINK |
| | Shaggy Playmats | 4/5 | |
| | Trixie Playing Rope | 4.2/5 | |
| | BarkButtler Super Chewer Tyre | 4.4/5 | |
| | Waago Chew Rope Interactive Ball | 4.1/5 | |
| | Carrot Teething Chew Rope | 3.9/5 | Buy Now |
| | Waago Rubber Ring | 4.1/5 | |
| | Waago Clown Fish Toy | 4.2/5 | |
| | Trixie Pet Vinyl Snack Toy- Sausage | 4.7/5 | |
| | EE Toys Squeaky Dumbbell | 4.2/5 | |
| | EE Toys Squeaky Dog Bones | 4.5/5 | |
Interactive Toys
German shepherds are known to have evolved from Wolves. Evidently, their natural yearnings to observe things and the people around them, are very high. This makes them highly interactive with their surroundings. Have a glance at some more benefits of interactive toys:
Self-entertainment: interactive toys are a great way to keep your pet entertained on its own. If you are having some work and errands to run, feel free to leave your dog with such toys.

Weight management: Interactive toys give your pet enough physical time. Tugging on a rope, fetching a ball; just all the physical games a dog needs!

Satiate the natural hunting instincts: Since dogs are wild animals, they do have their natural urges to hunt. Using interactive toys allows your pet to use that part of its brain and allows it to forage around.

Mental stimulation: Just like chew toys, interactive toys also work well in stimulating your pet's brain and thought process. Activities that incorporate interactive toys have been known to help against future disorders like Dementia.
Note: There is a word of caution here. Do not let the toys take away from the daily walks and exercises. While toys are a great help in exercising your dog, they are not a substitute for walking or other outdoor activities.
1. Shaggy Playmats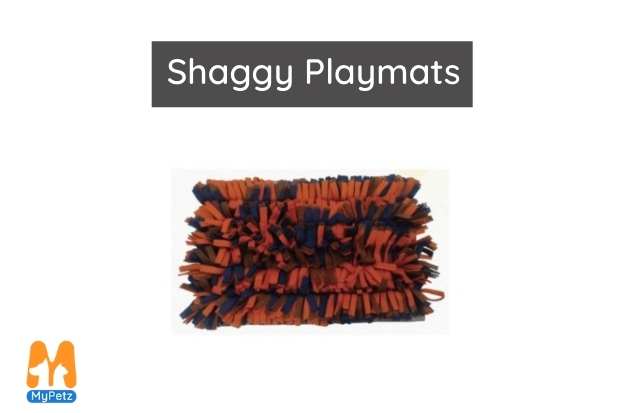 Shaggy Playmats is a perfect toy to activate your dog's sniffers! Dogs are inherently well at sniffing and uncovering things. Yet, they always look for some push to become physically/mentally active. This mat works wonders in triggering their senses.
The mat has long fringes of different colours. All you have to do is hide their favourite treats here and there amongst the fringes. 

Once done, see how busy your dog gets while using this mat on its own.

These mats are made out of polyester and cotton. 

Easily washable.
2. Trixie Playing Rope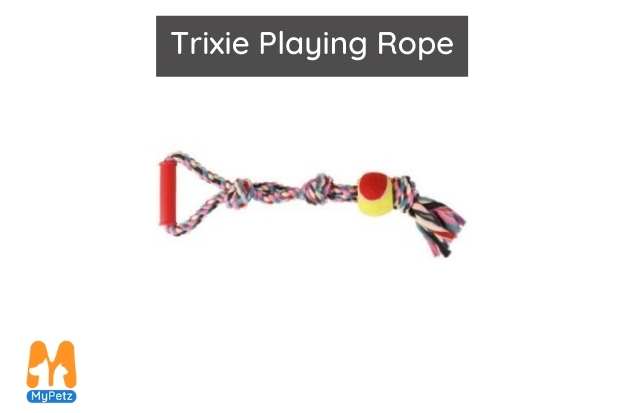 If your dog is high-spirited and keeps frolicking around, Trixie Playing Rope is your best friend! This playing rope has a woven ball at one end and a grip at another. Grab it in a hand and see how well can your pooch tug and pull.
Very good to test and train your dog's tugging strength.

This interactive rope might also be used to teach commands. Teach your dog when to pull and when to expel the pressure.

Helps in alleviating stress levels in your dog.

Made of 100% natural polyester and cotton.
Chew Toys
A very traditional way through which dogs try to interact is by chewing things off. You must have seen your pooch doing the same. Chewing on slippers, clothes, and anything that they find chewable! Getting a Chew Rope Ball will save all your furniture and accessories to be chewed by your dog.
Additionally, Chew Toys are much more than what meets the eye.
The toys may turn out to be safer than dog bones! Despite having a long way of being related to dogs, bones may be hazardous. Excessive chewing on bones may lead to broken teeth, blockages, and digestive issues. 

Chew toys are also proven to be beneficial for dental health. Frequent chewing keeps the teeth clean and naturally scrapes away any tartar build-up. This activity also leads to the production of antibacterial components in the saliva and cleans the mouth. 

Chewing on toys helps with separation anxiety. Just like humans, dogs also face separation anxiety issues. Chewing for dogs is analogous to meditation for humans. 

Mental stimulation: Just like physical activities, mental stimulation is also necessary. Chewing does the part in keeping your dog's mental capabilities at par.
3. Waago Chew Rope Interactive Ball
Waago is one home-grown brand that takes care of pets' daily needs. Their toys and other dog accessories are made in such a way to fit your dog's requirements and appreciation. If your dog likes to chew on things, Toys For Dogs & Puppies is a great pastime. 
If you have some other work to do, leave your dog with this ball and watch it immerse itself for hours. 

Adequate for your german shepherd's initial teething urges as well as teenage. 

Made of 100% cotton fibre ropes and non-toxic rubber to make it adequate for chewing. 

Sturdy; does not wear off easily.
Clearly, dogs are fond of chewing. This is why you must have some chew toys other than ballies! 
4. Kong Classic Rubber Chew Toy
Chew toys for dogs are just like binkies for your newborns. Kong Classic Rubber Chew Toys have been the favourite toys for many years. Surprisingly, these are loved not just because of dogs' hunch to chew, but also for other holistic developmental activities. Ever noticed your dog becoming nervous when you are about to leave? This rubber chew toy helps pooches with their separation anxiety as well! Try leaving this with your pup in your absence and see how occupied they stay with it.
Also helpful for teething puppies. Teething often makes your dog chew a lot to pacify the sensation. 

Made out of 100% natural rubber, the toy has an erratic bounce. 

You may fill the toy with little pop treats or peanut butter (if your dog likes it) and prolong the playtime to snacking as well.

Suitable to play fetch with. 

The toy comes in different sizes given ages. Starting from XS (up to 2 kg) to XXL (up to 38kg).
5. Carrot Teething Chew Rope
Carrot Teething Chew Rope is another chew toy made of knitted cotton ropes and shaped like a carrot. If your pooch loves eating carrots, this is exactly the kind of chew toy/rope you should get for it. 
This chew toy also procures comfort when your pup feels anxious. 

The soft texture makes them feel relaxed even when you are not around.

Made out of 100% non-toxic cotton fibre. It does not contain any plastic or rubber.

Besides being a fun pastime, this helps to keep dogs' teeth clean.
6. Waago Rubber Ring
Dogs get entertained with almost anything that you choose to play fetch with. Be it a slipper, a remote, a ball, or any toy. It depends solely on your pup and you will be fortunate enough if they prefer toys like Waago rubber rings over your slippers or phones! This toy by Waago is yet another simple but fascinating toy. 
Adequate for a great game of fetch, chewing, hiding and seeking as well.

Made with good quality rubber and is non-toxic.

This is a great distraction from chewing hard furniture, edges or legs of your sofa/bed, etc.

Easily cleanable with soapy water.
Soft Toys
German shepherds may seem intimidating but they also are goofballs. They do love toys that intrigue them, but they also adore having some stuffed toys. Depending on what your pup prefers, it may be a stuffed fishy, a turtle, a starfish, or even a stuffed ball. 
7. Waago Clown Fish Toy
If you have seen Finding Nemo, you would have loved clown fishes after it! No wonder, your dog too will. This cute stuffed Waago Clown Fish Toy is a must-have for your pup. When you get one, you will realise that having just one is not enough. Additionally, you may also double it as a throw toy. 
The toys are hand-stitched to perfection.

Made out of 100% cotton, hence, safe for your dog to carry around in its mouth. 
Not just a clownfish, you can avail this stuffed toy in a lot of shapes and animals. Check them out on MyPetz and choose according to your dog's liking. 
8. Trixie Pet Vinyl Snack Toy- Sausage
Trixie Pet Vinyl Snack Toy- Sausage is yet another squishy chew toy moulded like a sausage. Dogs love to eat meat and this toy completely parallels a thick meaty sausage. This toy is soft and also makes up for a good cuddle partner.
The toy can be customized to have sounds/tunes if your dog loves it.

It is about 14 cm long and made out of vinyl.

Easily washable, just like any other soft toy.
Squeaky Toys
As the name suggests, these toys squeak or play sounds when pressed. Now, this may not seem like a very good option from your end because of the undesirable turmoil. However, dogs respond differently and rather humorously to such noises. You may find the squeaks annoying but for your dog, it's something very new and intriguing. It makes them wonder what it is and where it is coming from. 
9. EE Toys Squeaky Dumbbell
EE Toys Squeaky Dumbbell Toy is lightweight, hence very handy to throw and catch. When your dog finally catches it, there comes the squeak. This makes the simple game of fetching more interesting and interactive. 
The toy floats in water. This makes it recommendable for your dog's pool/lake/beach time. Throw it in the water and see your dog swim up to it. 

Made out of non-toxic material.

The toy is made colourful and bright to catch your puppy's eyes.
10. EE Squeaky Dog Bones
Dogs and bones are inseparable. Everyone has grown up having seen this. Well, it is kind of true. Dogs do love bones. So here is a EE Squeaky Dog Bones toy like a bone!
Made out of non-toxic material so that it is safe for your pup.

It is very lightweight, hence easy to throw and fetch.

Rather than just leaving it with your dog, involve yourself in the gameplay as it helps in bonding.

The bone comes in several sizes, for different ages.

Comes in striking neon colours to catch your dog's attention.
Dogs do not need anything fancy. They do not long for expensive gifts or cars. All they need is your love and kindness. This is why making time and playing around with them does more than half of the work. Small things like these mean a lot to them. It may even make your dog's whole day when you get them some toys. But just giving the toys will not be enough. You have to be there with them to play those. This is all they know, to play and to love you unconditionally.