Farmina Cat Food Review
When it comes to pet nutrition, Farmina is your pet nutrition company! In this edition of our blog, we have come up with a detailed Farmina Cat Foods Review. It is only rational to begin this blog with something about the brand, the company, and then take it forward to the main question: Is Farmina Cat Food good for your cat(s)? Do vets recommend this brand? What are the top few products that it offers? What do the customers think about it? We have answered them all! Proceed and check out for yourself.
About Farmina Cat Food
The company has been started by Italians. One thing that Italians are reputed for is their love behind each and everything. Secondly, flavourful and healthy food is something that is very important for each family member, even the pets. Family values permeate the work and that is why the company has been successful for more than 50 years. It started in 1965 when Mr Francesco Russi began the Russo Mangimi company based on animal nutrition. It was not until 1999 that the company began its involvement in the pet food category besides well-being.
With a positive response, the company was in a position to invest more in technological research and institutes to improve the quality and nutritional factor of their products. It partnered with the Animal Nutrition of the University of Naples. Farmina Vet Research was also constituted to formalize all the research and recipes.
Since then, the brand has just seen growth and a surge in demand for its product worldwide. The company has its facilities in Italy, Serbia, and Brazil.
Is Farmina a good brand?
Farmina has been a reasonably good brand for cats' well-being and food. The mission is to develop the best possible, natural and scientifically curated nutritional food and products. You can say that Farmina is purely nature and science put together in a packet! 
Besides…
Raw materials are sourced consciously and mixed to deliver a flavoursome result.

In the developing stage, extreme care and attention are given to the proportion of ingredients to be used. 

The food is properly cooked in their kitchen. Healthy methods and strict guidelines are followed during the whole process.

The experts who are responsible for cooking are top-end animal nutritionists/chefs. They completely understand the nutritional requirements of carnivores like cats and dogs.

All of the actions are guided by scientific practices and research. 
The products are mainly produced in Italy and then shipped around the world. They adhere to EU food safety and quality standards so that you know they are not kidding around. All the foods also abide by AAFCO standards. All the effort that it takes to put the foods together after doing a lot of research and getting validation, makes Farmina a pretty reliable brand to source your cats' food. 
Is Farmina cat food good for your cat(s)?
There are many reasons why Farmina cat food is a decent option. Let's look at some of them.
ALL NATURAL CHOICE: the best performing options – are Farmina Vet Life and Natural & Delicious, both these ranges are preserved via antioxidants and not artificial preservatives. Tocopherol rich extracts are used for the same. Artificial preservatives like BHA/BHT impact health negatively. 
PALATABILITY: besides using the best ingredients and raw materials, palatability is an essential factor. The food should be appealing for your cat to be attracted to it. There should be an aroma that your cat senses the moment you open the packet, the texture should seem right and firm, the kibbles should be appropriately sized.
GMO-FREE FOOD: a genetically modified organism has been modified via engineering techniques. Using GMO or similar materials could be potentially hazardous and it is always best to refrain from taking risks when it comes to life. Farmina uses only 100% GMO-Free and certified raw materials for N&D and Vet Life options.
LOW GLYCEMIC INDEX FOOD: for the most species-appropriate glycemic response from the body, it is necessary to incorporate ancestral cereals. Besides, foods that are low in glycemic levels 
PROTECTIVE PACKAGING: Farmina foods are packed in a protective atmosphere that prevents fats from oxidation and keeps the food fresh. All Farmina food packets are filled with nitrogen gas for the same.
FARMINA VET RESEARCH: a team of professionals in nutrition, food formulation, and veterinary medicine cooperates with the Animal Nutrition branch at the University of Naples to curate a whole system of food and supplies to suit the physiology of dogs and cats. 
The above-mentioned positives are enough to convince a rational person that Farmina takes all conscious efforts to make the food safe for your cat(s). This makes its products very reliable and the brand extremely ethical in its functioning.
Do Vets Recommend Farmina?
As per vets and animal nutritionists, cats' natural nutritional requirements should include a menial amount of carbohydrates. The particular reason for the same is that the metabolism of carnivores like cats and dogs has evolved to extract energy from animal proteins and fats. Carbohydrates mainly add calories and many other brands offer a lot of those. Having said this, a few carbs won't do much harm. The only point of consideration is that it should be sourced on low glycemic levels which is indicated by the Glycemic index. Low GI foods are easier to assimilate and digest. Farmina takes note that all the foods should lay low on the GI. Therefore, besides providing a healthy meal, the meal is also appropriate for the GI.
Also, normal dry kibble does not offer the adequate amount of water content that a cat needs. It is often the case that cats do not tend to drink enough water throughout the day to compensate for the lack of moisture in kibble. This ends in chronic dehydration as a consequence. To prevent this situation, Farmina cat food has been made with more moisture than enough. 
The vets would easily give it a free pass!
Top Products for Farmina
Let's have a look at some best-sellers from Farmina. You can easily find the products on MyPetz. You may even check the availability of these products by locating a store nearby.
N&D Grain-Free Product Line
Each of these recipes contains 70% animal ingredients, and the remaining 30% is constituted by plant-based ingredients like fruits, vegetables, natural oxidants, vitamins and minerals.
1. Farmina N&d Prime Chicken & Pomegranate Adult Dry Cat Food
This cat food is GMO-free, grain-free, and made with 100% love and 70% high-quality animal-based raw materials
Fresh boneless chicken (30%), dehydrated chicken meat (28%), potatoes, whole eggs, fresh herring, fish oil, fibre, vegetables (peas, carrots, dried alfalfa, inulin), pomegranate, dehydrated apple, spinach powder, powdered blackcurrant, dehydrated sweet orange, powdered blueberries, salt, dried brewer yeast, turmeric root, marigold extract (source of lutein).
It helps to prevent obesity and diabetes due to its low glycemic value. 

Free from GMOs.

Comprises only natural antioxidants like tocopherols.

Stored in protective packaging.

Enriched with Vitamins. 

Does not contain any grains.
There is only one thing that is not very appealing- it contains potatoes. Potatoes do not do any harm but are minimally nutritious for cats and just add some hefty carbohydrates to the food. This may be contradictory to the food being "low glycemic" in nature.
2. Farmina Matisse Salmon Mousse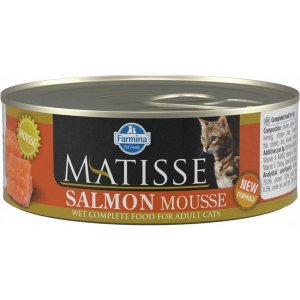 As the name suggests, it is a mousse for cats and kittens. 
Real chicken, Salmon (5%), fresh herring, chicken liver, hydrolysed fish protein, rice, vitamins and minerals, natural additives (Vitamin A, Vitamin D3, Vitamin E), Taurine.
High in protein.

All-natural.

Mousse like texture so it can mimic a good dessert for your cat while you have yours.
3. N&D Ocean Feline Herring And Orange Adult Cat Food
This cat food contains protein sourced from seafood along with fresh herring and dehydrated orange for flavour!
Fresh herring (32%), dehydrated herring protein (30%), sweet potato, fish oil, dried eggs, pea fibre, dried carrots, alfalfa meal, inulin, yeast extract, dried sweet orange, dried apple, dried pomegranate, dried spinach, psyllium husks and seeds, dried blueberry, salt, dried brewers yeast, turmeric, aloe vera extract, Vitamins (A, D3, E, C, B1), folic acid, L-carnitine, taurine, rosemary extracts, antioxidants (tocopherols).
It is about 98% protein of animal origin.

Zero artificial preservatives and colouring agents.

Free from grain.

All-natural antioxidants.
The products mentioned above are from the N&D product line. There is a separate Vet Life product line that focuses on specific health issues in cats and provides nutrition accordingly. These have been designed to target particular health needs and prevent issues related to them. However, you will need a prescription to avail these products. Some of these products are:
Gastrointestinal Feline (related to the digestive system)

Hepatic Feline (related to the liver)

Struvite Management Feline (related to struvite stones prevention)

Renal Feline (related to the kidneys)

Cardiac Feline (related to the heart)

Obesity Feline (for weight management)

Diabetic Feline (for balancing blood sugar levels)

UltraHypo Feline (for allergies and intolerance to certain foods)

Neutered male/female Feline (for neutered cats)

Hairball Feline (for hairball management)
What Do Customers Think Of Farmina Cat Food?
After going over several public reviews, we can say that Farmina is one loved cat food brand! People seem to be happy about the fact that their cats/kittens have fallen in love with the food. Especially the dry foods! As per multiple reviews:
 "Farmina is the best dry cat food available in India."
"The kitten food contains fresh dehydrated meat and not just grains and fillers."
"The food seems to be exceptionally rich in quality. Keep an eye on your cat so that it doesn't gain after getting addicted to the taste."
"The re-sealable bag is an absolute win, it helps to keep the quality and freshness as it is."
"We love how the food looks, smells, the CATS LOVE it, it seems to have a good moisture content to it."
And there are many more reviews that suggest that Farmina has been doing a commendable job at this.
Recommended Read – Purina Cat Food Review
How Much Does Farmina Cat Food Cost?
As good as Farmina cat food can be, it is not pocket-friendly for sure. You may even have a hard time accepting the prices that are charged especially when you compare it to others that are available in the market. Of course, they do not offer a similar kind of quality and freshness, but even then the difference is drastic. On average, you can get your hands on regular dry cat food at about Rs30/100g, but for Farmina, it costs a whole Rs105/100g! That is pretty much a three-fold difference to cover.  For some varieties, the price goes even higher, up to Rs135/100g! The pricing may make you wonder about your decision and maybe look for alternatives. But as per what we found out about Farmina, its quality and variety are worth it. So if you are blessed and capable enough to afford Farmina, we would say go for it!
FAQs
Is Farmina cat food low in phosphorus?
Farmina N&D product line has as much Phosphorus a cat requires for its dietary needs. However, in the Vet Life product line, especially in Farmina Vet Life Renal cat food, the concentration of phosphorus has been reduced. This cat food is a complete dietetic food to improve renal function in cases of insufficiency. This is why certain mineral concentrations have been reduced to balance it.
Is Farmina cat food good for diabetic cats?
Farmina has made a special kind of cat food for diabetic cats. Its Vet Life range of products has Farmina Vet Life Diabetic cat food to help balance sugar levels in diabetic cats.
Conclusion
Farmina has gained a decent reputation over these years. After having gone through the blog, you will be able to see why. We have already highlighted all the goodness, freshness and quality it has to offer in products. It indulges in all kinds of ethical practices and research before moving forward to the stage of cooking. It is constantly partnering with nutritional institutes and experts to improve further. This is what makes us a fan of Farmina! It is pretty easy to draw the conclusion that Farmina is probably the best available cat food brand especially when it comes to dry cat food. It also has many wet food options that are doing pretty well too.