Best Food for Persian Cats
Every cat-loving person has envisioned the kind of cat they would like to parent/foster. If you are looking for a kind that loves to laze around and is a cuddle bug, Persian cats are the ones to go for. The unique breed has been dignified for being very relaxed and easy to get along with. In contrast to other breeds, they may be slower to react and reciprocate (by hissing or scratching). Nevertheless, they do get annoyed after a certain point in time.
A few other things to know about Persian Cats:
Persian cats are purebred and hence exposed to genetic conditions.

They can be very playful.

Their coats can deceive their actual size and may make them look larger than they are.

Persian cats are not largely active or energetic.

They weigh somewhere between 8-15 pounds, while males are heavier than females.

They have an average life span of about 9-11 years.

They are affectionate and kid-friendly but only when their privacy and space is honoured. In other circumstances, they are pretty vocal if things get unsuitable. 

Persian cats shed a tonne! 
Now that you know what your basic Persian Cat will be, you need to know what kinds of food are good for them.
Everything you need to know before choosing a Cat Food for Persian Cats:
Broadly speaking, a thoughtful combination of both dry and wet cat foods can be effective for Persian cats. A lot of cat parents begin with wet foods for breakfast to provide energy as well as hydration early in the day. Later on, you can switch to dry foods along with a consistent freshwater supply throughout the day.
Coming to the configuration, Persian cats should be given a high-quality diet that is enriched with Proteins, a moderate amount of fats, and a menial amount of carbohydrates. 
On a cautionary note, certain things prove to be harmful to Persian Cats:
Chocolates: Chocolates are just as toxic to cats as they are to dogs. They contain methylxanthines that adversely affect the cat's health.

Caffeine: Caffeine also contains Methylxanthines.

Grapes and Raisins: Cat parents have observed that cats experience discomfort after consuming them. Although, it is not clear why this happens.

Raw eggs: Raw eggs can cause E Coli poisoning in cats. 

Alcohol: Cats should be prevented from consuming alcohol in any form. Any form of alcoholic consumption could be toxic and lead to liver damage.

Onions: Surprising as it may sound, onions can be harmful to Persian cats. Onions contain 'thiosulfate', which has been a recognized causative agent of Anemia in cats.

Garlic: Garlic also contains thiosulfates.
Buyer's Guide: How to Buy Best Cat Food for Persian Cats in India.
Now that you are superficially aware of the kind of diet that should be given to a Persian cat, the next step is to make a conscious choice. While it is not rocket science, it is not that easy either. Every new cat parent has some anxiety that always rests in the mind. With so many alternatives in the market and all these questions in mind, anyone may get bewildered. This is why we are here to bring your attention down to the most essential criteria.
Look for Protein to Carbohydrate Ratio:

as we have already suggested, the foods should be enriched with protein and have a menial amount of carbs. Proteins should be there in abundance, no less than 30% of your cat's food content.

Carbohydrates do provide energy, but are not as beneficial as proteins:

Carbs used for animal foods are normally sourced from inappropriate sources. Thus, they should be present menially, not more than 20%.

Proteins should be animal-based:

Since cats are carnivores, the primary source of protein should be animal proteins. The particular reason for this is that carnivores do not have all the enzymes that are needed to break down plant-based nutrients. 

Size and shape of kibble:

This size of food granules does matter when it comes to Persian Cats. Some cats may have a flat face (brachycephalic) and can thus have difficulty with larger sized foods. Therefore, the food granules/kibble should be smaller in size.

Food should offer hairball management:

Hairballs are very common for Persian Cats because they are relatively hairy. Moreover, cat parents love to upkeep their appearance. Opting for high-fibre cat foods can help in minimizing the discomfort as it keeps the fur moving. 
Which is the best Persian Cat dry food?
While Persian cats can be fed a combination of wet and dry food, we are enlisting some of the best dry foods that are obtainable in India. Dry foods have their perks. Feeding dry kibble assists with oral hygiene. Chewing on the crunchy granules helps in scraping away plaque. From the owner's point of view, dry foods are also pocket-friendlier. 
We have gone through several online reviews and hand-picked the most promising brands out of those. Have a glance at our best picks in India:
Let's Bite Active Persian Adult Dry Cat Food

Me-O Dry Adult Cat Food for Persian Cats

Maxi Persian Adult Dry Cat Food- Ocean Fish

Royal Canin Persian Kitten Dry Food

Pet World's Persian Chicken Pellets Adult Cat Foods

Me-O Persian Adult Cat Food Dry with Anti Hairball Formula

Whiskas Persian Cat Food Adult

Blue Buffalo Wilderness Hairball Control Cat Food
1. Let's Bite Active Persian Adult Dry Cat Food
Let's Bite Persian Cat food for adult cats comes in a refreshing Ocean Fish flavour. The food is a natural recipe with added vitamins, minerals and other trace nutrients.
Good for the eyesight and heart: It contains Taurine, which is an essential amino acid.

Contains Omega 3 and 6 fatty acids that ensure a lustrous coat.

It contains organic minerals to maintain the urinary pH.

Protection from Hairball: It contains enough prebiotics to provide fibre content.

It also contains Probiotics to ensure a healthy gut.
Some pet parents had a mediocre experience as the cats did not adapt well.
2. Me-O Dry Adult Cat Food for Persian Cats – Best for Hairball Protection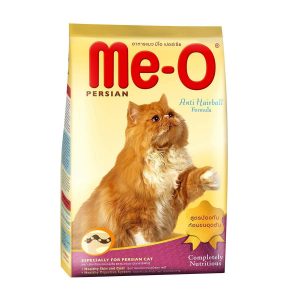 Me-O Cat foods have been liked by several cat parents and their cats, this time, especially for Persian cats with hairball protection.
It contains a complex of vital fatty acids like Omega 3 and Omega 6. This ensures the coat is shiny and soft.

It also has Taurine to ensure proper eyesight and a conditioned heart.

There is enough Calcium, Phosphorus, and Vitamin D to support and strengthen the bones.

Enriched with fibre to maintain a healthy gut.
Also Read Is Meo Cat Food Good
3. Maxi Persian Adult Dry Cat Food- Ocean Fish
Maxi formulates all the cat foods keeping their obligate carnivore nature in mind. All the ingredients are added to ensure a fully-functional digestive system, healthy teeth and skin, bones, heart, eyesight, etc.
It contains animal-based protein, primarily from fish. 

The food comes as crunchy and munchy kibbles prepared with the necessary ingredients. Also good to keep the teeth healthy, as the cat chews on them.

Enriched with Taurine to ensure good eyesight and a healthy heart.

It has a blend of Omega 3 and Omega 6 fatty acids, especially with Arachidonic acid. It supports kidney function, reproduction and other basic functionalities. 

Contains Sardines, Mackerels, Eggs, etc to deliver a good taste.

It has enough prebiotics to account for the fibre content and hence, has an anti-hairball mechanism.

It also has probiotics to keep the gut healthy.
Despite being economical, several cat parents have objected to the brand because their cats and nearby strays did not respond well.



4. Royal Canin Persian Kitten Dry Food – Best for Brachycephalic Cats
By now, almost every cat parent has tried Royal Canin cat food. Needless to say, the plurality of them had a pretty amazing experience and the cats also love them. They also offer a special kind for Persian Cats.
It is highly abundant with protein, about 30% by composition.

It contains Taurine, for eyesight and a healthy heart.

Besides basic fatty acids, it also has a complex of EPA and DHA. DHA helps in maintaining a healthy mucous membrane.

There is sufficient prebiotics to account for the fibre content.

There are probiotics to ensure that the digestive system works well.

The shape of the kibble has been curated specially for brachycephalic jaws/flat faces.
It costs more on the expensive side in comparison to others in the line.

Contains chicken by-products.
5. Pet World's Persian Chicken Pellets Adult Cat Foods
Pet's World delivers clarified and balanced food for cats. It is a portion of wholesome dry food made of ocean fish.
It contains all the essential ingredients.

Taurine: It has taurine to support a healthy heart and good eyesight.

It contains enough prebiotics to provide fibre in the diet and offer protection against hairball.

Omega 3 and Omega 6 fatty acids are present, specially Arachidonic acid. This essential acid helps to support kidney function, reproduction, and a lustrous coat.

It also has probiotics that help to keep the gut healthy.

It contains a blend of organic vitamins and minerals that help in controlling urinary pH.
It is a little on the expensive side.

Contains chicken by-products.
6. Solid Gold Let's Stay Indoor Cat Chicken, Lentil and Apple- Best Grain and Gluten-Free
Solid Gold has been renowned for its species-specific recipes. They offer a large variety of high-fibre cat foods to offer special protection against hairballs. Since Persian cats are indoor cats, this high fibre, grain & gluten-free cat food is perfect for Persian cats. 
It contains 100% natural chicken and not by-products.

The formula has been created especially to focus on protection against hairballs, thus it contains a lot of fibre.

There are essential fatty acids and omegas- Omega 3 and Omega 6.

It contains a patented complex of probiotics to strengthen the digestive system.

It is 100% grain and gluten-free. 
It is a bit expensive.

Few cat parents have complained of their cats throwing up after consuming the specific flavour.
7. Whiskas Persian Cat Food Adult
Whiskas is a well-known brand when it comes to the best and one of the most reliable cat foods. The brand concentrates on creating nutritionally balanced foods for kittens as well as adult cats. It employs its patented blend of condiments and essential fatty acids along with Zinc, to ensure utmost nutrition for your cats.
It is boosted with Omega 3 and Omega 6 fatty acids in a combination with Zinc. This blend assures you that your cat's coat will be lustrous and soft.

Taurine is used along with Vitamin A to support eyesight.

It contains high-quality protein that is sourced from real fish and not from by-products.

Each kind is tailor-made to provide the required nutrients at each phase of your cat's life. This one has been formulated for adults, 12+ months. 

It has a shelf life of about 18 months.
It is usually out of stock due to high demand. 
8. Blue Buffalo Wilderness Hairball Control Cat Food – Best Natural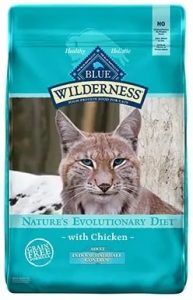 Persian cats need a high protein-based diet and this is what Blue Buffalo has been offering in the markets. The formula comes with an efficient hairball control function with its fibre content.
Comes with 100% real chicken and no by-products, to provide your feline cat with the best animal protein.

Does not contain any corn gluten, soy by-products, etc.

The food is 100% grain and gluten-free. This makes it a very good option for cats with gluten intolerance.

Blue uses its patented blend of antioxidants, vitamins, and minerals, to support the immune system. This "life source" blend, as they call it, is created with the help of veterinarians and nutritionists.

Enriched with prebiotics to provide enough fibre content.

Also contains essential fatty acids like Arachidonic acid to keep kidney functions in line.
It comes only in chicken flavour. If your cat does not like chicken, it may not adjust well to it.
By now, you must have seen enough options of readily available food for your beloved Persian cat. Yet, there are a lot of homemade options that can benefit your cat.
Best Homemade food for Persian cats
Cheese. It is high in calcium and protein, both of which are vital for their health.

Rice. It provides just enough carbohydrates that are needed to provide energy.

Salmon. Salmon is a great source of Omega fatty acids which are essential for the coat and kidney functioning. It also supplies Vitamin B12.

Turkey and Chicken. Both types of meat are a quality source of animal protein.

Cauliflower and Broccoli. These vegetables are full of vitamin C, beta-carotene, and folic acid. They are also enriched with antioxidants.

Green beans, Spinach and Carrots. They are also abundant with Vitamin A and beta-carotene.

Apples. Apples are a great source of dietary fibre and Vitamin C.
Extra care has to be put up with while cooking the food using all the safe ingredients to avoid overcooking. Overcooking can lead to a loss of nutritional value that is present. 
Furthermore, it will be advised to use several supplements like goat's milk, salmon oil, and probiotics to ensure the overall well-being of the cats. 
BEST IN NATURAL CAT FOODS…
If you take yourself on regular guilt trips for not being able to provide a home-cooked diet to your cat, you should opt for Blue Buffalo Wilderness Hairball Control Cat Food. It is probably the winner when it comes to incorporating all-natural ingredients and the least amount of artificial condiments.
BEST FOR HAIRBALL CONTROL…
If your cat experiences severe hairball issues, then you should opt for Blue Buffalo Wilderness Hairball Control Cat Food. Me-O has come up with this kind to focus specifically on prevention against hairball.
GRAIN & GLUTEN-FREE…
If your cat is apprehensive of gluten, then you can try Solid Gold Let's Stay Indoor Cat Chicken, Lentil and Apple. This should work perfectly if your cat is fond of chicken flavour.
FOR BRACHYCEPHALIC / FLAT-FACED CATS…
If you have a flat-faced/brachycephalic cat, you should opt for Royal Canin Cat Food for Brachycephalic Cats. It has been designed specially to suit such cats.
FAQs
1. Is Whiskas good for Persian Cats?
Whiskas is a reliable brand when it comes to cat foods. The brand has been positively reviewed even for the option they provide for Persian Cats. Yes, Whiskas can be trusted for Persian Cats as well.
2. What is the best cat food for Persian Kittens in India?
Royal Canin offers the best cat food for Persian kittens in India. The recipe has been consciously created while keeping a kitten's nutritional requirements in mind.
Conclusion
Being a cat-parent is also a never-ending task. If you are wholeheartedly in it, then you know how much it stays at the forefront of your mind. You are always questioning yourself whether you are doing the job correctly, making the right decision, etc. we have come up with such blogs only lessen the burden of such thoughts that cat parents indulge in.