Best Dog Collars
The name is quite suggestive in itself. Dog collars are accessories that are placed around dogs' necks. If you are a new pet parent, you will soon get a hang of why you need a collar. Let us get you instructed with it briefly. Collars have been in practice for a long time now. They may be used for identification, deterring some actions, leash training, or simply for fashion. Commonly, identity, address, and owner's contact information are generally placed somewhere on the collar. When you wish to step out of your residence, collars are used along with leashes. In this way, your dog can have enough room to move distantly and freely.

Before we proceed, there are two things that you should discern about dog collars…
As much as enthralling as you may find putting a collar on your dog, there are some safeguards and things that you should look into first.
The first brings us to a word of caution here. Since collars are placed around the neck, it becomes vital for you to be careful while handling the leash. If you are not well aware as to how leashes and collars should be used in concurrence, you might want to do so now. Many a time, collars can be traumatic and cause too much pressure on the trachea if the dog pulls heavily against the leash. This leads to causing unwarranted pressure on the neck. This is why you must be very attentive as to what kind of a collar you get for your dog. Further, training your pets to be reconciling when on a leash and collar will also help prevent any such situation. 

Secondly, dog collars should preferably be averted for dogs who have a slumped trachea, difficulty in breathing, or are prone to tracheitis. 
If your dog does not have any such health condition and is in perfectly reasonable shape; feel free to use a collar on your dog and train it to get a hang of walking with a leash on it.
Dog Collars Guide: How to Choose Best Dog Collar
1. Size of the collar
This is the most obvious thing to consider. Just like you do before getting any clothes/accessories for yourself, you will need to take the collar's size into account. You need to be attentive while making this call because a tight collar will hamper your dog's breathing and may cause damage to the trachea in the long run. If the collar is too tight, it may even choke your furry friend! Whereas, using a loose collar will bring a lot of safety concerns along with it. Besides, a loose collar increases the chances of your pet escaping from it if it is not trained enough to obey and follow your commands. To avoid such circumstances, you need to ensure that the collar fits perfectly while still leaving room for comfort.
2. Your dog's breed

 
This becomes an unfailing factor while choosing a dog collar. Mainly because different breeds come in different sizes. Some of them grow immensely while some end up staying small. Since we have already accentuated the vitality of apt collar size, the breed of your dog has to be necessarily taken into account. For example, if you have a compact sized dog such as a pug, you may go for martingale collars as larger ones may cause their head to slip out of it.
3. Material
Just like dogs, collars come in different types and materials. Unfortunately, not all the materials are safe to be used on your dog. If your dog is comfortable with nylon, it is a pretty safe option to go with. Soft nylon fibres are used in many other pet products as well. If you are more into fashion, you may opt for a leather collar. On the other hand, if you are an environmentalist, you also have an alternative to go for green collars that are environmentally viable.
4. The expediency of usage
The collar should not just be a statement of fashion that sits around the neck in vain. As mentioned earlier, the collar should also carry some relevant information that may come in handy in unforeseen circumstances. It should have some provision to add name tags, contact information, or maybe your address. 
Now that you are equipped with enough knowledge to be able to choose an appropriate dog collar, know that there are many kinds of collars. Let us brief you about the same before enlisting our favourite picks.
Types of Dog Collars:
1. Basic Dog Collars
These collars are pretty much like belts with buckles, just to be worn around a dog's neck. However, we do have some varieties within. While there are Basic Buckle Collars made generally from nylon webbing or leather. These contain a simple quick-release buckle that holds it together around the dog's neck. There is a small hook to which an identification marker can be hung. 
2. Safety Stretch Collars.
These are somewhat analogous to basic collars but have an additional elastic panel somewhere between the nylon. In case the collar gets stuck or the dog undergoes any potential strangulation, the elastic panel provides enough room for the dog to be safe from being strangled or muffled.
3. Reflective Collars.
These are yet another kind of normal nylon-webbed dog collars but have a layer of reflective coating or taping. This ensures that the dog is visible to the vehicles during darker hours/night.
4. Lit Collars.
These collars are conceptualised similarly to the reflective collars, except that they emit lights rather than reflecting. These collars have LEDs as the source of emission and these are powered by AAA batteries and lithium-coin cells.
5. Buoyant Collars
Such collars are made to aid dogs with floating/buoyancy. Although the collars are not functional as life jackets, they can still provide enough buoyancy to keep your dog's head above water. You must be aware of hydrotherapy for dogs who need rehabilitation after some injury. Such collars assist in the process.
6. Medicated Collars
Some collars are impregnated with medicinal chemicals/products that can repel ticks and fleas. These are useful to prevent infestations. 
7. Elizabeth Dog Collars.
You must have come across collars that are abridged like cones. These are generally prescribed by the vet if your dog has undergone any procedure and requires extensive care from getting scratched or licked.
8. Martingale Collars.
These collars should be used on dogs that have much smaller heads. In such breeds, the head might slip out of the collar. There is a special anti-slip feature in these collars. The collar has two loops, the inner loop acts as a control loop that gets fastened enough when the outer loop is pulled by the leash. The loop, if adjusted properly, will not restrict breathing.
List of Best Dog Collar in 2022
Pseudo-Leather Pet Collar

Robust Tick and Flea Repellent Dog Collar

Waago Nylon Collar for Puppies.

Pet Walk Premium Collar

Exion Pro Heavy Duty Leather Collar

Ultra Soft Real Sheep Leather Puppy Collar

Trixie Premium Dog Collar 

PawCloud Reflective Dog Collar

Waago Double Layer Polyester Dog Collar 

PetWale Martingale Dog Collar
| | | | |
| --- | --- | --- | --- |
| Image | PRODUCT NAME | PRODUCT RATING | PRODUCT LINK |
| | Pseudo-Leather Pet Collar | 4.3/5 | |
| | Robust Tick and Flea Repellent Dog Collar | 3.2/5 | |
| | Waago Nylon Collar for Puppies | 4/5 | |
| | Pet Walk Premium Collar | 4.4/5 | |
| | Exion Pro Heavy Duty Leather Collar | 3.9/5 | Buy Now |
| | Ultra Soft Real Sheep Leather Puppy Collar | 4.6/5 | |
| | Trixie Premium Dog Collar | 3.9/5 | |
| | PawCloud Reflective Dog Collar | 4.1/5 | |
| | Waago Double Layer Polyester Dog Collar | 4.3/5 | |
| | PetWale Martingale Dog Collar | 3.7/5 | Buy Now |
1. Pseudo-Leather Pet Collars
If you love the look of leather products, you will love this Pet Collar for your dog. It will make your dog look classy while being completely viable for the environment. Furthermore, it does not feel heavy. Your dog will feel no pressure wearing it.
The collars are made of black PU.

They can be customized as per your required size.

The collar has a light and durable buckle that is easy to fasten and release.
2. Robust Tick and Flea Repellent Dog Collars
We have already enlightened you with the perks of a medicated dog collar. This is one such product. Crafted using customised impregnated material that has natural essential oils. These oils are negligibly released into the dog's coat. This makes your dog kind of repellent to fleas and ticks. The herbal essential oils in Robust Tick and Flea Repellent Dog Collars are aromatic and hence, will make your pet smell fresh.
Place it around the neck and after leaving some room for ease of movements, cut off the remaining thing.

The collars contain extracts of citronella and eucalyptus.

The main active ingredient that is present is Lemongrass Oil.

They are completely waterproof and herbal.

Easily adjustable.
3. Waago Nylon Collar for Puppies
Waago Nylon Collar for Dog has been committed to delivering high-end pet products for quite some time. They have come up with collars that are made especially for puppies. Consequently, they provide utmost comfort and safety. Since puppies take time to get trained for leashes, this collar comes in handy during the process. They have been made quite colourful to make your small ball of fur look the cutest! 
The collars come in a single size, 32cm, which is sufficient for puppies.

The strap is made out of nylon webbing.

You can easily resize the collar using the small adjustable buckles.

Very durable.
4. Pet Walk Premium Collars
Pet Walk has been making dog collars for a long time and they do so for all kinds of dogs. All the collars are provided with adjustable snap buckles to fit around your dog's neck properly. Pet Walk Premium Collars are made out of lightweight nylon fibres that feel very comforting on the skin.
The material used is soft nylon.

The collars are very light in weight and do not feel heavy to wear.

Comes in variable sizes.
5. Exion Pro Heavy Duty Leather Collars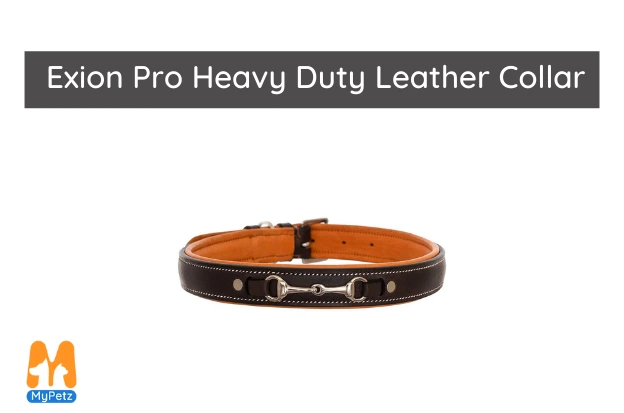 This leather dog collar is an example of superior workmanship. Exion Pro Heavy Duty Leather Collar is made from 100% full grain naturally tanned leather. No harmful chemicals or dyes are used in the process. The two-tone appearance that has been given to the collar makes it look all the more classy. 
The D-ring present in the collar has been snappily placed around the buckle to minimize any kind of pressure. 

The roller buckles are made of premium quality stainless steel.

These collars are used for dogs in the military and law enforcement, hence very much suitable for active dogs.

Best in terms of durability.
6. Ultra Soft Safety Stretch Real Sheep Leather Puppy Collars
Ultra Soft Safety Stretch Real Sheep Leather Puppy Collars are more of a fashionable dog collar. Neatly crafted from 100% authentic sheep leather, this will make your pooch look handsome. Additionally, the collar has been embellished with tiny ringing bells. If you do not fancy the sounds, these bells can be detached. This is a safety stretch kind, it will break away if excess pressure is applied.
The collars come in three sizes; small, medium, and large.

There is a stainless steel buckle that has been specially cast.

The breakaway mechanism works well and when required.
7. Trixie Premium Stop-the-Pull Dog Collars
Trixie is yet another pet-centric brand that takes care of all pets and their needs. Trixie Premium Stop-the-Pull Dog Collars is a choke-style dog collar that looks fashionable. Besides being super stylish, these collars work well while you are training your dog. High-quality nylon fibres along with a durable metal chain make the collar sturdy and long-lasting.
The collars are available in two sizes, L and XL.
The collars are made using good-quality nylon webbing.
Suitable for smaller dogs or initial years.
Collars contain a stainless steel buckle to adjust the collar to accommodate the dog.
The metallic chain is quite thin and may not be preferred if your dog grows up to a good size.
8. PawCloud Reflective Dog Collars
From a safety point of view, reflective dog collars are very apt. If your dog wants you to take them out for a walk at night, you can rely on PawCloud Reflective Dog Collars for its protection from the vehicles that pass by. The collar has been made like traditional collars, except being padded with neoprene rubber material. This blend makes the collar very sturdy, flexible, and soft to the skin. 
The collars come with quick release and adjustable buckles.

The edges of the buckles are made to curve so that it does not pinch your pet's neck.

Nylon webbing makes the collars soft yet sturdy.

The collars are almost waterproof, they dry within minutes of getting soaked in water.

They come in three sizes; small, medium, and large.



9. Waago Double Layer Polyester Dog Collars
Polyester is yet another material that is frequently used to make dog collars. You have already read about Waago's nylon collar, this is another product that has been a hit. Waago Double Layer Polyester Dog Collars is layered doubly with polyester to make it strong enough. This is probably the best to provide a good grip around your pet's neck. Being comparatively thicker, this collar is very gentle to the skin.
The collars have a small buckle to make them easily adjustable.

Polyester makes the collar breathable.

Very durable.



10. PetWale Martingale Dog Collars
We have already let you know about martingale dog collars, for dogs with smaller faces. This martingale collar fromam PetWale is probably the prettiest collar you will come across. The diamond-cut pattern is just too attractive to avoid. Moreover, this collar provides more space as compared to many others of the kind. This will make your pet fall in love with it. 
There are multiple points of security for adjusting the collar. This will prevent your dog from escaping.

The strip is also reflective. This increases safety during darker hours.

Adequate for medium and large size dogs whose neck is about 14 to 20 inches.
Looks like the listicle will go on inexhaustibly. But we have confined ourselves to the top ones. 
Recommended Read – Signs to Never Ignore in Pet
Our Best Picks:
When looking for the most sturdy and durable dog collar, the Exion Heavy Duty Leather Collar seems to win the stance.
Best for Small Dogs:
If you have a small breed, you should get the Waago Double Layer Polyester Dog Collars. This will ensure the utmost safety and fit most likely.
Dog collars are something that you will need at some of the other points in your dog's life. However, the way you put it to use decides its value. Using it without any knowledge and precaution will be dangerous for your pooch. But once you do it correctly, you will never face any problem that comes out of using it. The collars will help you keep the tail wagging for as long as possible.
Also, Read our Guide on Best Dog Shampoo in India
FAQs
1. What kind of collars are destructive for the dogs?
There are some brutal kinds of collars available in the market. Choke chains, Prong Collars, Shock Collars are used for regressive training. Such collars do more harm than help you train your dog. These are designed to enable you to cause physical discomfort if the dog disobeys your command.
2. Should dogs sleep with collars on?
Not all kinds of collars are suitable to let them on for 24 hours at stretch. If your dog's collar is spacy enough to let it move freely, then you may leave it on. If it is more on the fitted side, it will be better to use only while going out.